Delta's Bi-directional 15 kW / 500 V DC Power Supply is here!
Recently, Delta Elektronika announced its first 15 kW standard power supply, the SM500-CP-90. This power supply offers a bi-directional output and new, advanced features at the price of a standard version. You'll find operation easy. There's no need to study bulky user manuals. New 15 kW power supply details The SM500-CP-90 features a flexible constant […]
Happy New Year!
Happy New Year! We want to thank all of our new and returning customers for your business in 2016. We look forward  to continuing to provide high-performance and high-quality test solutions in 2017. Right now for the XS-Series of hipot and safety testers, Sefelec is offering its XS-Pack, providing accessories for only $1.00. These include […]
October Special
Does your testing require high-power cable and harness testers for your next project? Check out our special which is on right now. Get 10% off of Sefelec Synor 5000 Series cable tester and switchcards. The sale continues until October 31, so hurry!
Premier 2804 Safety Testers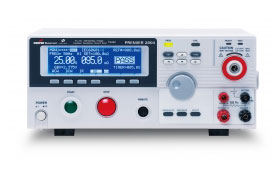 The Premier 2804 safety tester is 5 kV AC hipot, 6 kV DC hipot, insulation resistance to 9.5 gigaOhms, 1000 V DC. Ground continuity 3 amps – 30 amps AC, 650 milliohms.